In conjunction with my hipster fixation, I thought I might delve into what I have dubbed "halfway hipster." I definitely have an appreciation for the laid-back casual wears, but could never allow myself to stray too far on the crunchy spectrum. Take note...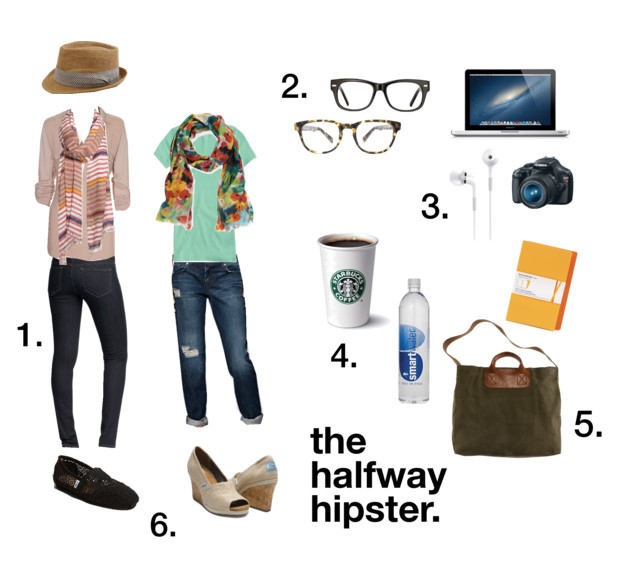 V-necks and skinnies are hipster 101 (especially in Nashville)... the more worn, the better. Extra points for authentic vintage nature. I love a good boyfriend jean too. Dying for these
J Brand Boyfriends
. And I wear a scarf at least 2-3 days a week. Regardless if it's 30 degrees or 103 degrees.
I want these so badly. Thinking I might take the plunge and snatch some up. (bonus! buy these and
Warby Parker
donates a pair to someone in need. Very hipster, the whole, being-involved-in-causes thing.)
Hipsters love their art forms. Blogging and photography are the big ones... Macs are standard across the hipster board. I have about five pair of iphone headphones floating around between my home, purse, car, office. Can't ever be without the opportunity to listen to my jams.
Starbucks is borderline too mainsteam for the hipster set--more props awarded if your brew is local and over-priced. I know hipsters love their soy--I haven't branched over into that yet.
...to stow away your moleskin for documenting every life-altering, deep thought or political rant. Extra points if it's vintage or vegan.
Okay, so
Toms
have come a long way, right? I doubt I'll ever be donning the classic version (never say never), but I have really grown attached to the crochet version and the wedges, for sure.
How hipster is your style??