Like many of you, my wardrobe spans a few different closets. Since the tempy here has slid down a few degrees, every morning, my ritual is to traipse upstairs to hastily find something long-sleeved to don for the day. Eventually, I'll swap my summer clothes with the winter, but until now, this has been the name of the game. So why not add more to the collection, am I right?
We had a little family trip to the mall this weekend--little man actually needs the winter clothes, whereas I just convinced myself (and ST) that we needed to expand our winter wardrobes as well. And I dare say, that since that boy has known me, he's never looked better. ;)
But enough about him, right? ;) Here are just a handful of my autumn additions...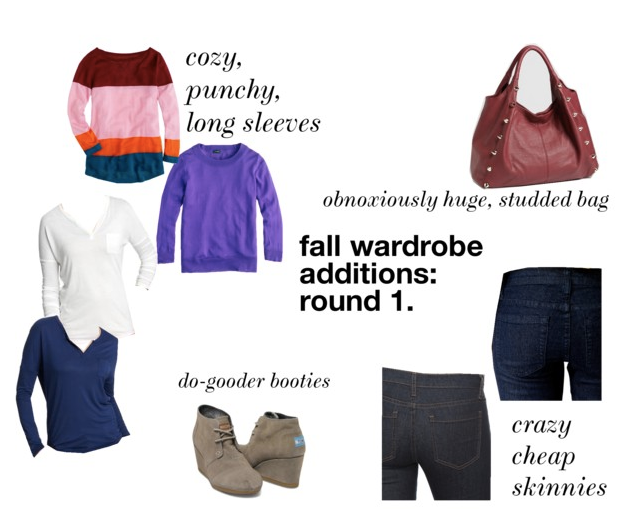 J. Crew knows what they're doing, amIright? Their sweaters are to-die-for. I want everything. I want it all. And Old Navy's basics can't be beat. Sorry 'bout it--I know I sound like I'm 15, but don't fix it if it ain't broke, right? And that bag? I'm obsessed already. I was a little hesitant about the harlot red and studs, but now that I've splurged, I am in love.
I've been a designer denim gal for the better part of the past decade... but through fortuitous shopping experiences, I have conceded that forever 21's skinnies are INSANELY comparable to my beloved
J. Brand jeggings
. In fact, at 1/15th the price (unfortunately, I'm serious), I cannot go wrong... I adore the jegs, but they're so paper-thin, the fabric is worn through by the end of the season--I'm on my third pair, and well, shall we say that that little addiction has been put on hold in favor of the recessionista version. Don't get me wrong--while the quality of the F21 version is decent upon purchase, they pill a bit after a season of wear--but still hold their stretch and such. I definitely recommend them to anyone--bonus: size down! I've found that I can wear a size smaller in F21 than I do in Sevens, Hudsons, Citizens, J Brands... you're welcome.
What have you bought for the upcoming season? What are you dying to splurge on?